Hochschule
lessons on the historical oboe as major and minor subject, reed making classes, group lessons, chamber music, orchestra repertoire, Historical Informed Performance Practice for modern players
---
OaO - Oboe Academy Online
oboe lessons for everyone, everywhere, at any time: Online-lessons in moderne oboe, cor anglais, historical instruments, contemporary music, Alexander Technique, stress management, video analysis, reed making. Initiated by ZSÓFIA MAGYAR and KAI FRÖMBGEN. Can be booked individually in different packages.
---
masterclasses
zamus: academy 
A project that brings professors and students from different european institutions in touch with each other. The central idea is the co-teaching and co-playing: In contrast to classic masterclasses, there are no conventional individual lessons during the zamus: academy. Instead, learning happens during rehearsing a program together. With this approach of teaching and learning during playing, zamus: academy goes by the historical example of the master-student model typical for the 18th century. Initiated by Prof. Leonard Schelb, HfMT Köln and Prof. Clara Blessing, HfM Würzburg in cooperation with zamus: Zentrum für Alte Musik Köln.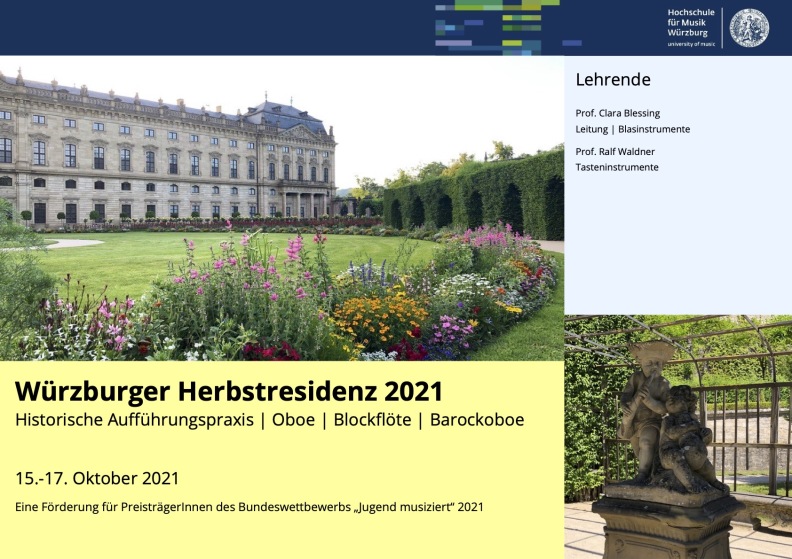 Würzburger Herbstresidenz
A program for BundespreisträgerInnen of the competition "Jugend musiziert".
further documents
Summaries of group lessons, the most important sources at a glace, information for reed making. Click here for more information.